The creators of this website as well as the authors of the histories and genealogies herein are direct descendants of those Bakers who migrated down through Virginia and into eastern Kentucky and Tennessee—settling, among other areas, the Appalachian Mountains region. Below is the short history of a specific subgroup of Bakers who made their homes in what is still known as the Middle Fork area on Richland Creek in southeastern Kentucky near the Gray community. This remote land is and was comprised of cleared fields and dense forests situated many miles off the paved 2-lane highway that connected Corbin and Bar'vul (Barbourville).
In my youth and that of my father (Oddis Jackson Baker), who grew up there, farms and homes were accessible only by means of narrow, dirt and clay roads that quickly turned to impassable mush in nearly any rain. On many occasions in the early 1950s, my grandfather (William Josiah Baker) would use the family wagon and mule to pick me and my family up many miles away from the farm where the pavement ended. No car could navigate the deep ruts in the wet clay and mud—and there was just no traction to be had by rubber tires. So, it was a long and exciting wagon ride for me and my brothers—always one of the highlights of our frequent visits.
The narrative history below was written by my father, Oddis Jackson Baker, shortly before his death in 2002.
–William Albert Baker
---
Joseph Baker (1810-1895)
Joseph Baker, the 7th child of Andrew, was my great-great grandfather. The records show that as a young man, Joseph left the Virginia area and crossed the Cumberland River, traveling on foot to Knox County, Kentucky. The route was probably down the valley through southwestern Virginia and over the Appalachian Mountains at Cumberland Gap. He most likely then traveled northwest; possibly to meet friends or relatives located in Knox County (he would have crossed the Cumberland River near Pineville, Kentucky). The distance from Barbourville to Cumberland Gap is approximately 40 miles–a significant distance when traveling by foot. The distance from the Gap to his old home in Virginia is unknown, but could have been several hundred miles. This is the same route over which Daniel Boone led the first settlers into Kentucky and established Boonsboro about 55 years earlier.
Joseph settled somewhere in Knox County around 1830. On Janurary 7, 1834, he married a young woman named Jane Williams (from Knox County Marriages, 1800-1850), and they were eventually blessed with six children: three sons, (Marion, John and Green), and and three daughters, (Alaine, Margaret, and Amanda).
In 1860, Joseph acquired 30 acres of land by paying off the back taxes. This farm was located over the hill from Knox Fork in the Middle Fork community. The farm was typical for the area: a meadow about ½ mile long and surrounded with mountains on three sides. With help from the older boys and possibly friends and neighbors, he constructed several log buildings, a large 2-room building for their home, a barn and a corn crib, and dug a large open well for drinking water. He moved his large family into the new home. His six children ranged in age from 23 years down to 11 years old. In 1863, he purchased an additional 45 acres.
Just seven years later, in 1870, Joseph and his older son, John E. Baker, decided that the grass looked greener out west. Kansas was admitted to the Union in 1861, and was being touted as a utopia, with plenty of cheap land for the taking. Joseph transferred ownership of the farm to his youngest son, Green, who had just gotten married.
Joseph, now 60 years old, his wife Jane, his son John (31) and his wife Melvina and children packed all their possessions and began the long westward trek in wagons pulled by oxen. They traveled across Kentucky into Indiana and settled temporarily in Mechanicsburg, Indiana. In 1872, Melvina died of typhoid fever. One verbal source (the late Leland Baker) indicates that Joseph's wife also died of typhoid at the same time–but this has not been verified in the available written records. In 1873, John E. married again; this time to Louisa Graham Craig from Indiana.
In 1880, the Baker families moved again, from Mechanicsburg, Indiana to Otterville, Missouri. The two families, consisting of approximately 11 people, traveled in a single covered wagon pulled by mules. John E. bought a farm near Otterville, where other relatives lived. He made that area his permanent home. John's second wife, Louisa, also passed away, and on December 29, 1892 he married for the third time to Sarah (maiden name not confirmed). Joseph died in 1895 at the age of 85, and John E. died in 1903 at the age of 63.
(John E. Baker had 6 children by his first wife, Melvina; 8 children by his second wife, Louisa; and 2 children by his last wife, Sarah.)

Green Ward Baker (1845-1906)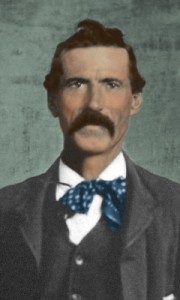 Green Ward (generally referred to only as Green) was my great grandfather. Green married Eliza Jane Berry in about 1870 (the same year his father and brother set out for Kansas). Eliza was born in 1850, which would have made her a bride of about 20. Green was around 25 years old at the time.
Green and his bride were living in the home place when his father and brother left for Missouri. Green and Eliza Jane were blessed with nine children. Five boys, (John, Joe, Bill, Green, and Sam), and four girls, (Martha, Cordella, Ida, and Dora).They lived on that same farm for the remainder of their lives. The farm was located in Knox County, in an area known as Middle Fork. The county seat was a small town named Barbourville–located about 15 miles to the southeast. Refer to the map section of this Web site to see the exact location of the farm. The original farm house is identified as the Green Baker home located in "Granny Holler". This old log home gave me a lot of good memories. Many years after Green and Eliza Jane were gone, I would frequently visit my Aunt Rhoda and Uncle Ben there—where they lived and operated the farm.
Like the earlier Baker women (and typical of the hardy pioneer wife), Eliza, after bearing 9 children, managed to outlive her husband by almost 20 years. During this time, she served as midwife to the community and was affectionately known as "Granny Baker". The small valley where the farmhouse was located was known by the family as "Granny Holler". She married a Spurlock sometime after Green passed away, and may have married again–although I have no real information to confirm that, and everyone who could verify it has also passed away.
John Harvey Baker (1871-1952)
John Harvey Baker was my grandfather. He grew up on the farm with his eight brothers and sisters. Years later he told me stories about his childhood. One such story which I am sure was true related to his accuracy with a hunting rifle. The son who was the best shot was privileged to provide game for breakfast. He would go squirrel hunting early in the morning and would get at least two squirrels with each shot fired, therefore he was usually selected as the provider. Incidentally, the gun used was not a 12 gauge shotgun but instead a Kentucky Long Rifle weighing about 25 pounds and loaded with a lead ball and black powder.
In 1894 John met and married a young lady in the community named Ellen Malissa Israel (she was a student in his class when they first met). Over the next 17 years they were blessed with 8 children.
In 1899 a family argument occurred between John and his brother-in-law George Israel who was drunk and being a nuisance. The story was (as it was passed down) that after much provocation, resulting in a fight, Grandpa shot George. It was believed at first that George died, but that proved to be a false rumor. He completely recovered and lived for many years. Because of this incident and other considerations, John and Malissa decided to move to Missouri and join his uncle and cousins who had located there earlier. So, they packed everything and, with three small children, traveled by train to Ottersville, Missouri. Grandpa rented a farm and lived there for the next four years. Another son, Walter Sherman, was born there in 1903. Because of malaria and other factors, such as just being homesick, they decided to return to Kentucky in 1904.
This is a photograph of Grandma and Grandpa (John Harvey and Ellen Malissa Israel Baker) and the oldest children, Chester, Rhoda, and Ed. The time of the picture was approximately 1900–about the time they moved to Missouri.
Sometime after they returned, Grandpa bought the farm adjoining his father's. This place was located in an adjacent valley with mountains surrounding three sides of an existing farm house. Instead of using rough-hewn logs with clay filling the cracks (like his fathers place), the building was constructed of vertical planks for all exterior walls (no framing). The roof was covered with wood shingles, and one stone chimney with two fireplaces provided the means to heat the house during the winter weather. A porch extended across the front of the building, and an L-shaped back porch ran around the side and rear of the building. A well for drinking water was located at the end of the back porch, so that you could get fresh drinking water without going out in the elements. An underground cellar (which served as a refrigerator for cold storage) was located at the end of the back porch. About 25 years later, I moved into this old farmhouse with my mother, father, and brother, and grew up there. This was the same house my father lived when he was a boy (see below).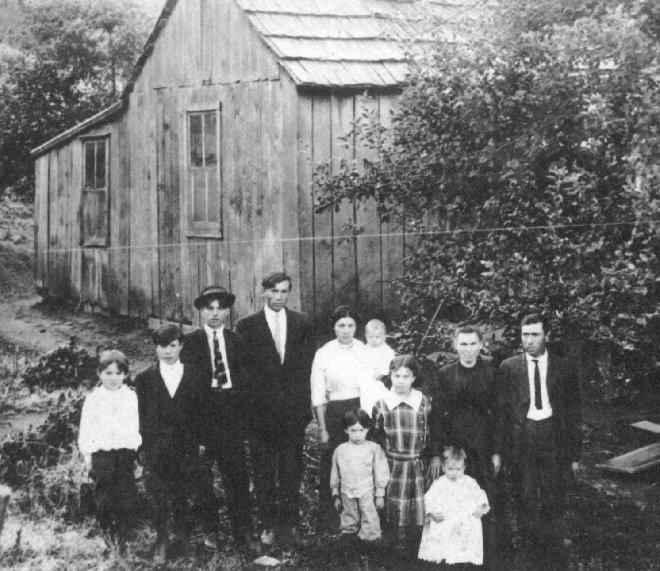 Here is John Harvey Baker's (my grandfather) family in front of the old farmhouse. This is where my dad and his brothers and sisters grew up, and it's the same farmhouse we moved into when I was about 6 year old. We lived there until I was in high school. Back row, left to right: Willie, Walter, Chester, Ed, Rhoda, Clifton (and her child), Iva, Grandma, and Grandpa. Front row: Johnny and Roscoe.
Grandpa took special tests and became qualified to teach grammar school. He taught school, farmed, and raised his family which had increased to 8 children by 1912. The older boys plowed and planted the fields, and did much of the farm work as they became old enough. Later, sometime around 1918 to 1922, Grandpa purchased about 100 acres of farmland (with timber) located on the main road, and more in the center of the community. He moved a sawmill to his new property, cut trees, and sawed lumber for a new house, barn, and outbuildings. In addition to his own needs, he sold enough sawed lumber to pay for the land. Not many of us today pay off our mortgages in a couple of years. He built a modern, two-story frame farm house with brick chimneys and drop-siding on the exterior walls. He located the house on a small hill overlooking the main road and the surrounding valley.
It so happened that the grammar school was located only one quarter mile away. Like the other old farm place, I have many fond memories of the experiences that happened in and around it all during my childhood.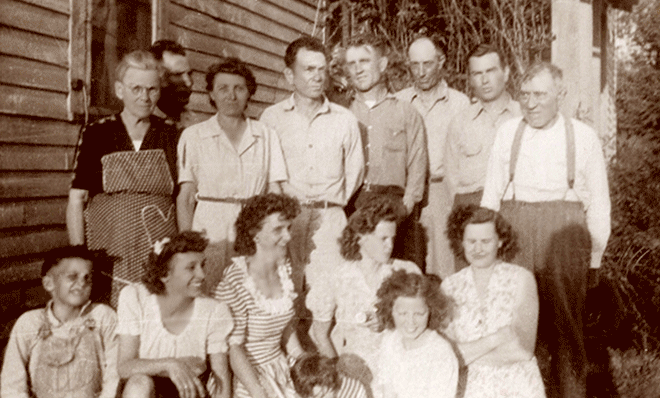 Grandpa John Harvey Baker and Grandma Ellen Malissa Israel with children and wives and grandchildren circa 1943-1944.
My grandparents were like a second set of parents to me–as they were to all their grandchildren. Grandpa's brothers, Joe and Bill,  bought or traded for adjacent farms, and Green bought a farm in Laurel County, adjacent to Knox. His four sisters married local boys and settled on farms in the general area. Grandpa lived on his new farm until he died in December of 1952. He was 81 years old. Malissa lived another ten years. She passed away in February of 1962. She was 86 years old.